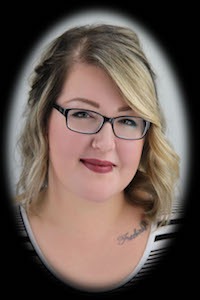 Kelly B
Stylist Level 4
SCHEDULE APPOINTMENT
REFER A FRIEND
BUY GIFTCARD
Locations available: Leonardtown
Year Started in the Industry:
2005
Year Started at The Hair Company:
2005
Favorite Quote:
Just wing it! Life, eye liner, everything!
When and How did you get your Start:

I started working as a receptionist at the salon right after high school. After three years, I decided that I was missing out of all of the fun in the back and decided I was ready to be a stylist! So I moved on to become an apprentice and here I was now a level 4 stylist!
Why did you choose the beauty industry?
When I was younger, I was the neighborhood girl who always did everyone's hair, make up and fake press on nails!

Why do you love working at The Hair Company?

The atmosphere and the energy! It's such an exciting place! The continued education and desire to want to always want to do better because of management and peers. Also helps to be able to work aside some of my most favorite people daily!

Favorite Product & Why:

Redken extreme lengths sealer. This product is amazing! Guaranteed 6inches of growth in a year. Since I've started growing my hair out, I have noticed a huge change in my length and thickness! It's a must have for everyone who wants healthy hair!
What is your favorite service to perform? Why?
Color. I love being able to be creative and customize my guest color just for them.

What do you feel you are strongest in technically?

Color, in general. I feel like I'm a week rounded stylist when it comes to color. I'm always up for a challenge whether it be a color correction or something bold like fashion colors. But I also can create natural soft color!
List 3 words that describe you:
Strong, Dynamic, Personable
What's your favorite thing to do in your off time?
On my time off you can find me spending time with my fiancé, Matt and my 2 dogs! Spending time with my family and 2 awesome nephews! I also enjoy shopping and coffee dates with my friends!
Is there anything else you could share about you?
I don't know! Lol
MY HOURS
TUE | 10:00 AM -09:00 PM
WED | 10:00 AM -09:00 PM
FRI | 09:00 AM -05:00 PM
SAT | 09:00 AM -03:00 PM